GAMESPOT SELECTS GRIM FANDANGO "GAME OF THE YEAR 98"


CNET GAMECENTER SELECTS GRIM FANDANGO "BEST ADVENTURE GAME 98"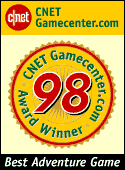 GRIM FANDANGO FILE UPDATE NOW AVAILABLE

GAMESPOT SELECTS GRIM FANDANGO AS ONE OF THE TOP FIVE GAMES FOR IT'S HOLIDAY GIFT GUIDE gamespot

MAKE NO BONES ABOUT IT, MEXICAN NOIR SHINES (5 STARS) - computer games online

IGN-PC GIVES GRIM FANDANGO A 9.4 OUT OF 10! - ign.com

GAMESPOT GIVES GRIM FANDANGO A 9.3 OUT OF 10! - gamespot.com

GRIM GOES INTERNATIONAL - Links to our worldwide partners:

GRIM FANDANGO COMPUTER GAMING WORLD'S TOP PICK - In their annual 100 Hot New Games feature, Computer Gaming World has tapped Grim Fandango as the most anticipated graphic adventure for the holiday season. Following is an excerpt from the accompanying article: "Grim Fandango exemplifies a bold, challenging and stylistic new direction for LucasArts. Anyone interested in the future of the adventure game genre should be excited. We sure are."
Congratulations to the Grim Fandango team!